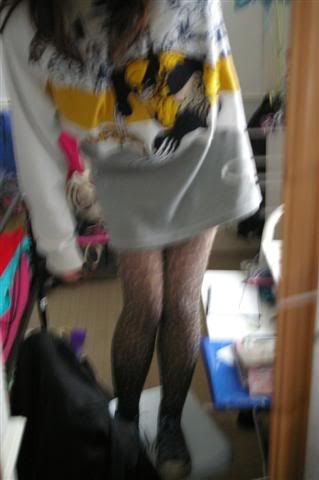 yes you are seeing correctly, i AM wearing an oversized Wolveraine jumper with leopard print tights ..... and yes i did go to the shops like this in broad daylight wearing my old Converse to bring the whole outfit together.
its like i said last week, saturdays are my new sundays, and when it was bitter cold today i was reduced to throwing my boyfriend's very old jumper over my clothing (for the record i was in fact wearing the leapard print tights with a oversized sheer black tee!)
i bet everyone has a certain and maybe embarressing outfit for those cold winter days?
oh and hooray!the
book by MK and Ashley
finally arrived and its even better than i imagined!its full of beautiful pictures and interviews with designers and artists. i can definately see this sitting on my coffee table in my london flat (whenever i get a flat that is!)
here's a few pages for you :)