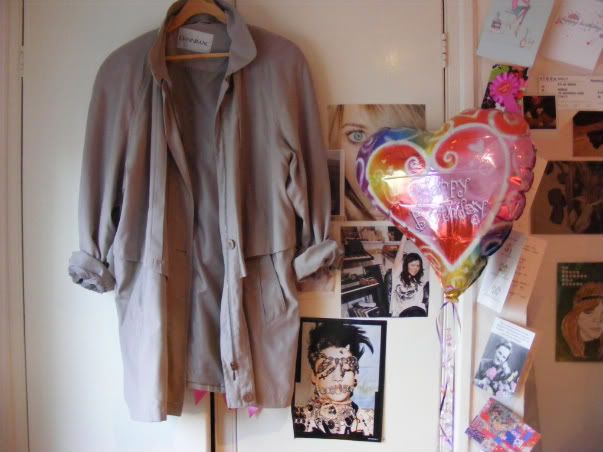 1. my outfit; morrisey tee - eBay, leopard fur jacket - Topshop, leather skirt - Topshop, necklace - Accessorizes, boots - Emma Cook for Topshop
2. my boyfriend bought me tickets to go see the genius that is Dylan Moran, i am obssessed with this guy!
3. the coat i bought myself out of the charity shop and the balloon sent by my mother
4. my boyfriend also got me the Foals album and Lina Scheynius' 2nd edition book of photographs
well i survived the weekend, just about!couldn't have asked for a better birthday :) the highlights of the weekend summed up;
- balloons sent from my mother
- the beautiful posh floral 'panic alarm' given by a friend who worries for my safetly in London
- introducing the underground to my friends and scaring the crap out of one
- worst organisation ever ending will all my friends together in the one place :)
- drinking Southern Comfort on the train, yum yum
- befriending boys from Essex and two guys from Berlin who found it too funny that the only German i could remember at that point was '
kartoffel-kopf
' (potato-head)
- dancing to the Pixies in Borderline in Soho
- getting trapped in the toilets, panicing, and then not caring because they played the Smiths
- the amusing nightbus taking us forever to get home and the strange russian girls sitting next to us
- one of my friends (a Northern Irish farmer) having been taught London slang, shouting
"innit blud!!
" at the top of her lungs in Euston station as we waved our other friend off
- taking my Northern Irish friends to experience the wonder that is Nando's
- finishing the weekend off by enjoying the best lunch
ever
in
St.John's
in Smithfield and deciding i never want to eat anything else!
now it is all over i dont know what to do with myself...