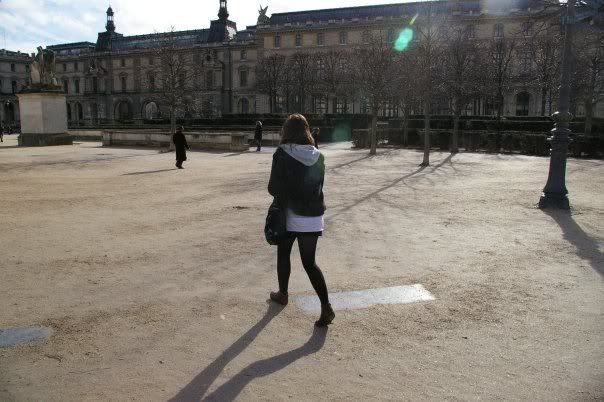 (me in Paris 2009)
thanks for all the well wishes :) really cheered me up! you'll be glad to hear the head is fine, except for a big lump of glue on top of my head and some headaches, im doing ok.
the few days of work are mostly being spent sleeping and reading but this weekend im going to start decluttering my bedroom (so expect more stuff appearing up for sale)
in the mean time heres some answers to the questions you's all asked, some of them made me laugh!
what is your background?ie where you were born, lived, currently living?
im 22 years old, i was born in Germany to Northern Irish parents, spent 3/4 years there, until we moved back to Northern Ireland where i first of all lived near Belfast, then when i was about 13 we moved up towards the north coast and lived in the countryside by the sea. i studied over in England for University and have recently decided to base myself down in London with the boyfriend. i constantly get the urge to move so i cant see myself staying here for too long!
whats your favourite music?
all time favourite has got to be The Cure (completely obsessed with them!), closely followed by Depeche Mode and New Order. more recently it has to be Jimmy Eat World, The Kills, Foals, The Teenagers, Friendly Fires, Cut Copy, Steve Aoki, Yeasayer, Empire of the Sun, O.Children
whats your favourite food?
cheeeeessee - especially dutch!, pasta, any kind of vegetable and chocolate
any fears or phobias?
every so often i become scared of heights, also terrified of E.T. he actually gives me nightmares, that and being in small churches or people touching the top of my head, freaks me out!
favourite make-up/skin care products?
Johnston's cleansing wipes, Darphin for cleansing cream and moisturiser (they're moisturisers are amazing, definately worth the investment!), Johnston's Baby Lotion for the body. make-up wise im still exploring what's best for me but currently i love YSL 'Perfect Touch' for foundation and primer, Chanel eyeshadow in 'safari' for the base, Bourjouir 'Volume Clubbing' eyeliner in black, Rimmel Volume Flash for mascara and it will always be Benefit 'Dandelion' for blush. for my lips i use Dior 'Creme de Rose' lipbalm, and Jelly Pong Pong for lip stain, most recently i splashed out on Chanel Rouge Allure in 'brilliant'
why do you never do any outfit posts anymore?
ahhh...right ok, i might as well be fully honest here, i actually miss doing outfit posts but in the last year i put on weight. not loads, but enough that i no longer feel comfortable with myself, its a terrible thing to admit but i was a lot happier when i was a slim size 10 eating whatever i liked because i did so many activities to counteract it. so whenever i get my ass in gear and start excerising again, im sure i'll feel a lot happier to appear in front of the camera again :)
1. You're leaving on a plane tonight for any destination of choice - what essential clothes/accessories do you pack?
oh eek!got to take my new leather satchel from Topshop, my Jimmy Choo H&M sparkly brogues, my black lace up vintage boots, my Monki jumper, new embroidered dress from Topshop and a few cardigans
2. The destination?
Hamburg, Germany, determined to get exploring Berlin and Munich as well
3. You have a hair-transplant, it has to be very different from your hair though - but who's would you put in place of your own?
haha i like this! i have the thickest darkest brown hair so maybe if i could have dirty blonde long locks like Mary-Kate Olsen that would be interesting!
my question is your favourite things to do in london?
because my boyfriend works a lot i like to take myself off to Carnaby Street where i enjoy some brunch (a grilled croissant with ham and cheese) dander around Cos, Liberty and Beyond the Valley. pick up Jalouse at the newspaper stand and finish with a walk either to the Tate or over to Covent Garden. that for me is a perfect day in London. i also like hitting places like Brick Lane and for my nerdier days the Natural History Musuem.
I was wondering what your sort of career aims are? Do you have a fashion blog because you're interested in fashion journalism or something along those lines?
ah this is interesting because im asking myself this a lot lately. i've always been interested in fashion, but because i was constantly told growing up i should go into fashion by friends and family, and i clashed with my art teacher i choose to go the other way and study Philosophy (stubborn i know!). i have a fashion blog because i am obsessed with fashion and clothing, i love to see how it evolves from the catwalk to end up on the high street and i love to see how people interpret it in their own style. currently i am training to be a Visual Merchandiser with Topshop but i aim to either drift towards styling or something else within the design aspect of retail.
Favourite places to shop on the high street and online?
highstreet - Cos, Urban Outfitters, Topshop, American Apparel
online - Asos,
Monki
,
Weekday
,*
ashtray.se
, Etsy
what are you reading at the moment?
'This Side of Paradise' by F.Scott Fitzgerald
If you had to choose, what would be your favourite outfit in your wardrobe?
right now it'd have to be the oatmeal oversized jumper i picked up in the charity shop the other day for £1.60, a
floral shirt
i got off Etsy, black bodycon skirt from Topshop, my DM brogues and my Topshop tan leather satchel.
If you could pick anyone designer outfit of the catwalk what would it be?
ohhh tough one, but i think it would be
this one
by Stine Goya for Fall '10
Favourite all time movie?
Lost in Translation
Your most embarressing outfit?be honest!
probably something i wore back when i was 16 and trying to get into a nightclub once, slinky dress and high heels and me didnt mix too well!oh and i had a horrible habit of straightening my hair for a while *shudders* horrible phase!
I'd like to know where you see yourself in 5 years time?
oh eek, hopefully not living in London anymore, a nice little flat with large windows and a small patch of grass or a roof top, either living in Europe somewhere or in San Francisco with my boyfriend and best friend Raj. working for some company like Opening Ceremony would be the icing on the cake!oh and owning a cat
well, since im not supposed to be on my laptop for too long i better go now, hope that answered everything you wanted to know :)
* technically it isn't 'online' shopping on Monki and Weekday, but because you can pick what you want online then order through Filippa (she's a really lovely personal shopper over in Sweden) i always just call it online shopping. if your ever looking for any Swedish shopping i definately recommend her!