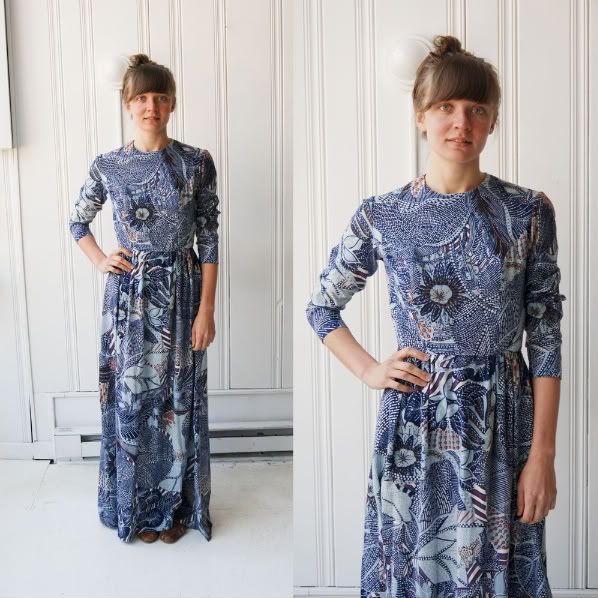 1. from Jak & Jil
2. Lonely Hearts dress at Bona Drag
3. vintage dress on Etsy
i was warned head injuries took a long time to heel, but its killing me waiting for this to settle. between the headaches and discovering another large cut on my head which the doctor missed, im trying to sleep it all away. attempted to go to work today, realised what a mistake that was so came home and slept for 5 hours solid, at least its giving me a chance to catch up on the blogging :), that and i actually managed to do something useful with my time and through up a load of my wardrobe for sale on eBay (you can see the items
here
), i can actually close my drawers now, yay!
currently looking at maxi dresses. i know they're all the 'rage' and 'bang on trend' but i still struggle to see how they can be worn comfortably in the British climate. i am however looking to the maxi dress for a wedding i have to go to next year in September and since its gorgeous weather around that time in Northern Ireland i figure the maxi dress might fill that slot perfectly. i've fallen in
love
with Lonely Heart's sheer blush version, in my head i've already teamed it with the brown skinny belt, delicate gold chains, chunky cardigan and pretty platforms. unfortunetly its near $300, plus its sold out. oh well, im going to keep the picture and see if a dress maker can maybe knock me up something like it around the time.
also stumbled across this little gem of a dress on Etsy, how beautiful is the print?! again, if i had the money to burn it'd be mine right now but somehow i think my boyfriend would kill me if i bought a pretty dress then complained that i couldn't afford food for the rest of the month!haha
well, if someone wants to give it a good home, you can find it
here