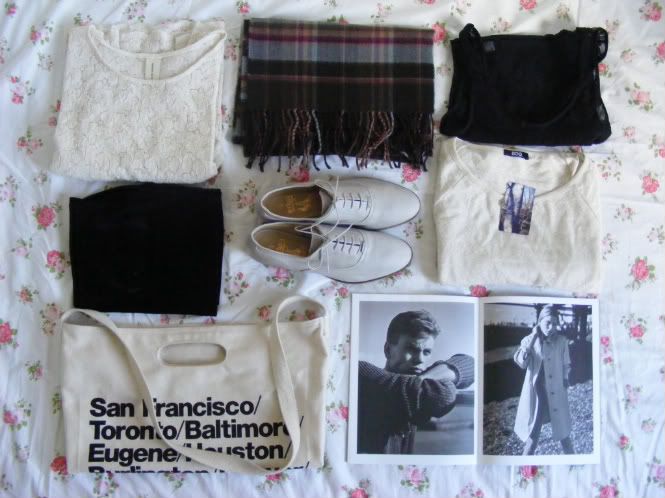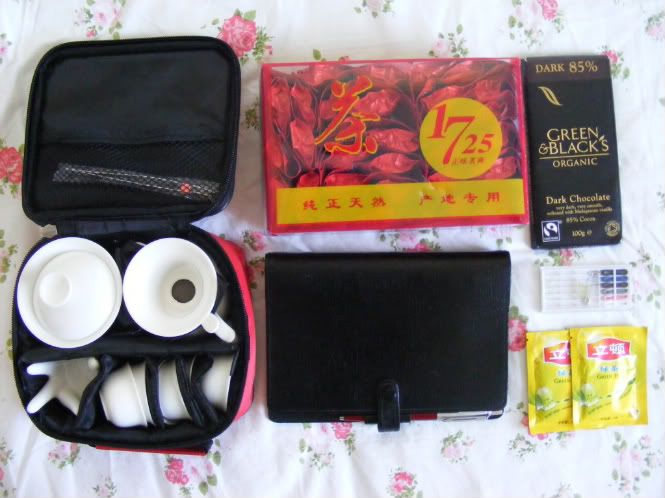 1. lace top - Next, tartan scarf - Urban Outfitters, lace body - American Apparel, velvet shorts - American Apparel, cream brogues - Next, patterned jersey - Urban Outfitters, canvas bag - American Apparel, Margaret Howell SS '11 campaign booklet.
2. chinese tea set, box of chinese tea, dark chocolate, my mother's old filofax, some green tea
the last two weeks have been manic due to too many night shifts and not enough sleep, while i love this time of the year due to LFW i hate that it clashes with one of the busiest times of year for any Topshop branch; Model Store. thus for the last 2 weeks and following 2 weeks to come i will be at the mercy of lots of red bull, sugar and ability to sleep during the day. fun times!
in the mean time i managed to pick up a few pieces for my Spring wardrobe last weekend in London including lots of cream and lace items, i particulary love the lace top from Next and my new tartan scarf from UO which is proving to be the perfect companion to my
camel boyfriend coat
! i also recieved the best parcel this week from my parents (it proved a massive pick me up after working 6 days straight) containing a few little surprises; my favourite dark chocolate, my mother's old filofax which she is now giving me and some treats from my father and his recent trip to China. tomorrow i shall celebrate this weekend off work with lots of sleep, an Arrested Development watching marathon and trying out my beautiful new Chinese tea set.
hope everyone else is doing something nice this weekend :)