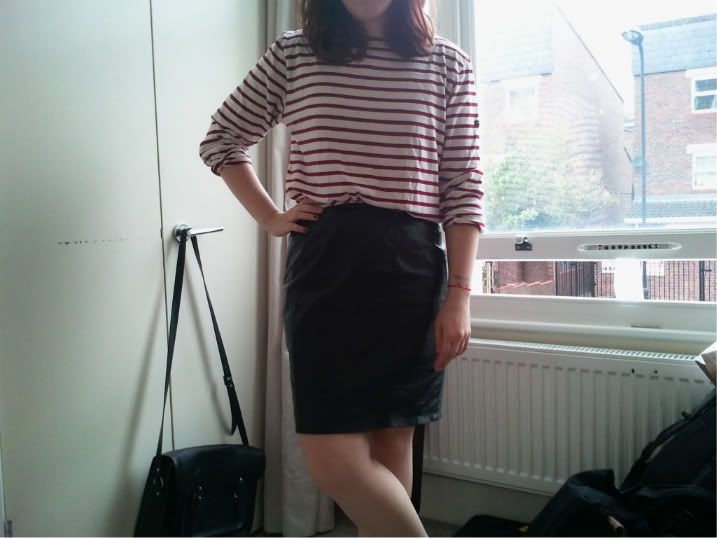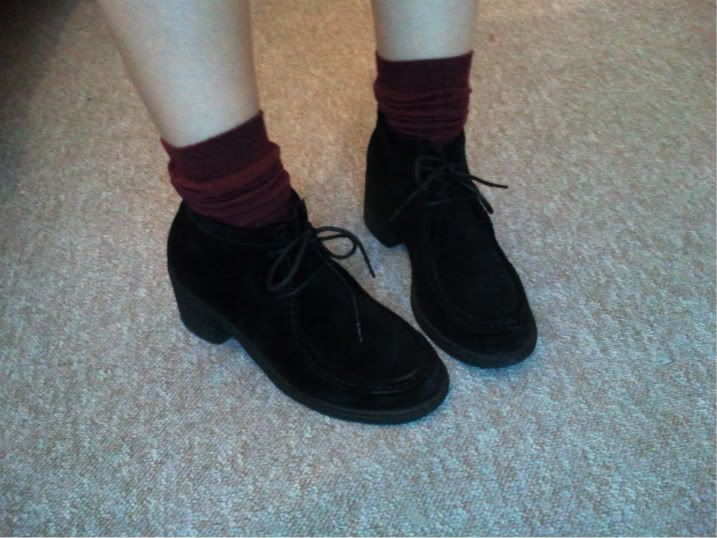 (sheer shirt, leather skirt and shoes c/o Urban Outfitters, striped Breton top by Saint James)
a few weeks back i was invited by the lovely Charlie at Urban Outfitters to pop into their Oxford Steet branch to get to see the AW stock that had started filtering in. i'd been obsessing over the Autumn colour stories and textures since attending the AW '11 Press Day and it had been so nice meeting and get to chat to the folk from Head Office like Charlie and
Stefanie
. the nicest thing is that everyone that works there
really
loves the stock and you can tell are genuinely excited for new stock and new seasons! after spending something like 3 hours wandering around the store with total clearance to take as many photos as i wanted, i was then given the chance to pick a few of my favourite pieces. i jumped that these super comfy chunky heeled
desert boots
(reminded me so much of the boots by
Swear
i missed out on), a beautiful sheer
shirt
and this amazing
leather pencil skirt
which i am not ashamed to say i have worn nearly every day since!
i did want to post the pictures i took but somehow my brain wasn't working that day (blame the night shifts!) and i accidently delated them, sad times! i did take fantastic pictures at their
Press Day
where you can make out a few pieces that have already arrived in store, and those still to come - im holding out for the tartan trousers from their grunge trend
'The Cobain Collection
', anything by
Surface to Air
and that
amazing
leather
rabbit head bag
!
p.s. - a big hello to
Verity
one of their designers who i bumped into and ended up chatting to in their head office lift, thankfully she didnt mind my tired appearence and ramblings (seriously, night shifts can go away!) and was so lovely in general :)