bra and knickers - Cos, deer snowglobe - I Love Retro, nail polish - Paul & Joe via Urban Outfitters, striped breton top - St. James, Apartamento Issue 07 via Goodhood, 'really f%#king cute' necklace - In God We Trust, feather pen - Maison Martin Margiela, ankle boots - Office, felt trilby - Margaret Howell, silver 'evil eye' ring - Datter via Etsy, rose lip balm - Dior, cotton pjs - Creatures of Comfort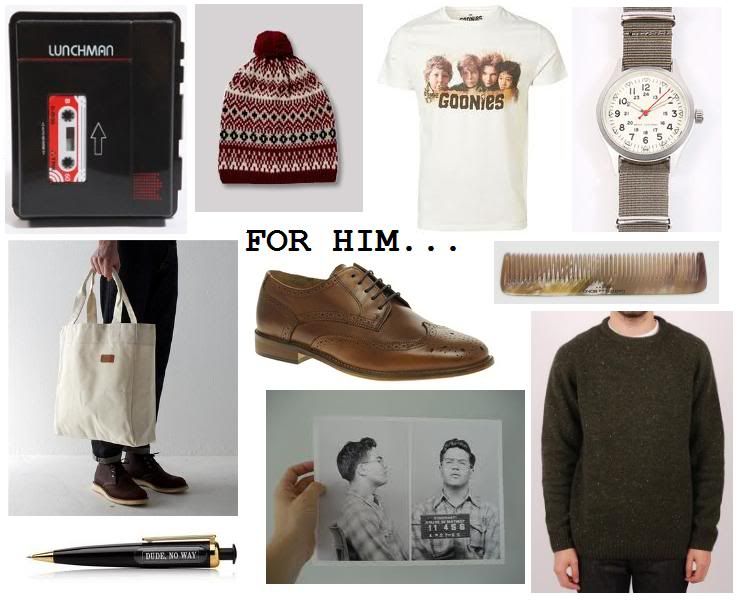 walkman style lunch box - Lunchman, knitted hat - Sunspel, Goonies tee - Topman, watch - Urban Outfitters, canvas tote - Albam, brogues - ASOS, comb - Carter & Bond, pen - Predict-a-Pen, vintage mug shot print - Larken Design via Etsy, sweater - Carhartt

bit late in the game for a guide i know, but then i am always unprepared when it comes to Christmas! these are a few of my favourite things out there for guys and gals.

and if you're like me and always leave everything to the last moment Goodhood are doing these really awesome stockings filled with treats from the store. plus as i discovered recently, gift cards are proving the answer to alot of my

'what the hell do i get them?!'

problems. the ones provided by Westfield are a safe bet and come in handy for those loved ones that simply

can't

choose between Cos and Miu Miu (you can use it in both the high street and designer stores!).