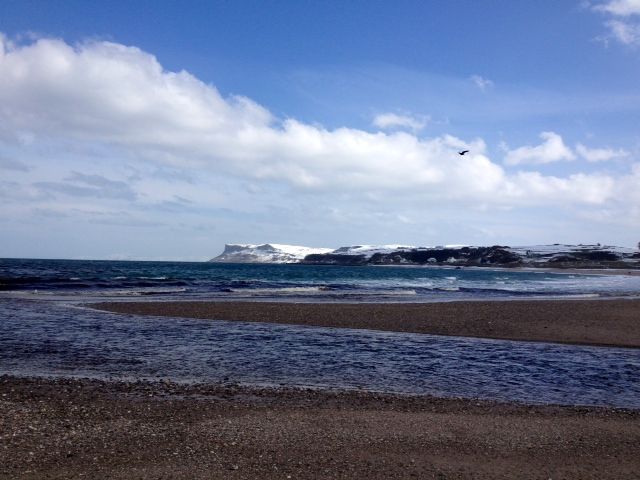 - Ballycastle beach and Fairhead covered in snow - out in the garden wearing vintage brogues and new Margaret Howell trousers i picked up in the recent sample sale - the brilliant 'Margaret Howell style' shirt i picked up - freshly chopped hair, there is no greater feeling! -
another quick back to the emerald isles earlier this week, even when its for sad reasons, it's always lovely to see family and escape the smog of London, and how pretty is my local coast line when its covered in snow?
being home also meant the usual hair cut encouraged by mother, and while helping the boy buy a shirt and tie i stumbled across this gem of a shirt above! i've been obsessing over the
Margaret Howell
polka dot shirts for a while now and had even been considering ruining a Cos shirt in a dye attempt to just just the 'right' kind of spots i was after (
see here
). i actually came across it in a rather old fashioned department store normally catered to the older generation, it was styled terribly on a mannequin but it didn't stop me practically squealing with delight when my eyes fell on it! no idea really of its brand but for £45 and 100% cotton i really wasn't going to complain. just goes to show you can find the best things in the oddest of places sometimes, in other words never knock the 'old folk' shops!